Anne Lu1, Ritsuko Komaki2,3
1Mediastinum Editorial Office, AME Publishing Company; 2Department of Radiation Oncology, The University of Texas M.D. Anderson Cancer Center, Houston, TX, USA; 3Radiation Oncology, Baylor College of Medicine, Houston TX, USA


Editor's Note: Tumors of the thymus gland are a group of rare diseases, on which both patients and doctors lack of knowledge and information. International Thymic Malignancy Interest Group (ITMIG) has launched the initiative: May – Thymic Malignancy Awareness Month. ITMIG aims to increase the knowledge of these rare neoplasms among patients and their families, as well as among doctors of various specialties with a series of events including the interviews with mediastinal disease experts released on the journal Mediastinum. Prof. Ritsuko Komaki, as a prominent expert in the field of thymic diseases, was invited for the interview (Video 1).
Video 1. Interview with Prof. Ritsuko Komaki
Mediastinum: What is the role of radiation therapy in the treatment of thymic malignancies? What are the established issues and key questions?
Prof. Komaki: The role of radiation therapy (RT) for the treatment of thymic malignancies is to improve local control which might improve overall survival and disease free survival. The main role of RT for thymic malignancies is postoperative radiotherapy (PORT).
Many of thymic malignancies have not been found in early stages since there are no screening tests for thymic malignancies. Patients with thymic malignancies are not associated with smoking or family histories. Unless patients started to have myasthenia gravis syndrome suggesting thymic tumors or incidental findings on the CT scans, most thymic tumors were found fairly locally advanced diseases.
If the thymic malignancies are completely resected without any extra-capsular invasion (Masaoka's stage I & stage IIa), they do not require postoperative radiation therapy.
Those patients with Masaoka's stage III or thymic carcinoma N+ need to get PORT since local recurrence will be 30%-60% in 5-10 years. Those patients with unresectable thymic malignancies need to be treated with induction chemotherapy which might down stage or reduce the tumor size, then they can be operated. If patients did not respond to induction chemotherapy, definitive RT with concurrent chemotherapy as a radio-sensitizer should be considered. If patients are unable to tolerate induction chemotherapy, definitive RT with or without immunotherapy should be considered.
RT is also used for pleural metastasis as well as oligo-metastasis with immunotherapy which usually apply stereotactic body RT (SBRT).
As for the unresolved area, the role of PORT for thymic malignancies for Masaoka's stage IIb is controversial since the patients are young enough to live long time to manifest local recurrence 15%-20% in 5-10 years, although they can be re-operated when local recurrence occurs. As long as PORT was given with more modern RT equipment and adequate dose volume planning was done without causing normal tissue toxicities to the esophagus, lung and heart, PORT can be offered to patients with Masaoka's stage IIa thymic malignancies (1).
Mediastinum: What are the key advances in radiation techniques for thymic tumors and their advantages?
Prof. Komaki: One of the reasons why RT or PORT for thymic tumors was not popular for a long time was that the high energy of RT, technique of RT and dose volume histogram (DVH) for RT planning were not available, which caused normal tissue toxicities around the thymic tumors e.g. esophagitis, pneumonitis and various cardiac toxicities including acute and late normal tissue toxicities. Those patients with thymic tumors are usually healthy, young non-smokers who might live long enough to manifest coronary artery diseases and pericarditis as well as lung fibrosis etc. without careful RT planning.
These days, we do not used ortho-voltage RT (kilo-voltage) for the treatment of thymic tumors since they are located in the mediastinum and require more penetrating beam without high dose of radiation to the skin or sternum. By using higher energy (mega-voltage) and 3 dimensional conformal RT (3DCRT), intensity modulated RT (IMRT) or proton beam treatment (PBT), we can give much more effective RT without radiating surrounding normal tissue such as skin, lung, heart and esophagus as well as thoracic bone marrow. This technical aspect of RT to spare normal tissue well was documented in the manuscript of inoperable Stage II-III Non- Small Cell Lung Cancer (NSCLC) (2-9).
Mediastinum: You are a pioneer and strong proponent of proton therapy. What are the values and potentials of proton therapy?
Prof. Komaki: Thymic tumor arises in the anterior of the mediastinum. Therefore when we give RT, we need to void surrounding normal tissue such as skin, sternum, lung, blood vessels and heart. If the thymic tumors are unresectable, we need to give higher dose of RT with concurrent chemotherapy, which usually causes acute esophagitis or pneumonitis and possibly more late effects on the heart. Proton Beam (PB) has lower dose at the skin and gives almost 100% energy deposit at the middles of the mediastinum without exited dose which is the perfect treatment for the mediastinal tumors such as inoperable or unresectable stage II-III NSCLC including thymic tumors. PB treatment has a benefit to avoid severe esophageal, pulmonary, cardiac toxicities as well as bone marrow suppression. To reduce late effects of cardiac and lung toxicities is essential for patients with thymic tumors since they are expected to live long time with or without the disease (2-9).
Mediastinum: Would you please give us a general picture of the publication about radiation therapy of thymic malignancies? Any significant or innovative research impresses you most in recent years?
Prof. Komaki: As for publication about radiation therapy of thymic malignancies, please refer to the publications listed below. It is very important to follow the NCCN guidelines for the Thymoma and thymic carcinoma especially the principles of Radiation Treatment for the Thymoma and Thymic Carcinoma (1).
With regard to the impressive researches, the most important innovative researches are associated prognostic factors based on aneuploidy vs. diploid, Ki-67, other markers to find out if patients will need adjuvant treatment or more molecular targeted treatment especially thymic carcinoma or recurrent Thymoma. For the unresectable thymic malignancies require better induction chemotherapy without cardiac or bone marrow toxicities. More innovative research could be done diagnostic imaging based research. Our recent exciting area is SBRT and immunotherapy for patients with NSCLC. However pleural metastasis from Thymic Tumors including Thymic Carcinoma can be treated by SBRT and immunotherapy. Again more innovative research can be found in the references in the NCCN guidelines for thymoma and thymic carcinoma (10-15).
Mediastinum: Researches in the field of thymic malignancies are usually presented by single institution and scattered. What is the role of ITMIG in enhancing the multicenter and global cooperation and what achievements have been made in radiation treatment of thymic malignancies?
Prof. Komaki: This is the most difficult problem for the thymoma and thymic carcinoma since they are rare diseases compared to the lung cancer; it is difficult to perform any prospective randomized studies in one institution or cooperative groups. Any meaningful prospective studies for thymic malignancies need to be done by global settings. Besides, data collection is the other important issue needs to be addressed with global cooperation. And ITMIG is uniting global efforts in addressing those issues.
Mediastinum: What originally interests and leads you to the study of radiation oncology and thymic tumors?
Prof. Komaki: One of my patients came from Athena Greece after a dozen of surgical resections for her Thymoma. Her first surgery was done when she was at age of 16 years old. She never received PORT nor chemotherapy. After multiple recurrences, she was no longer surgical candidate. She was a 26-year-old well-educated female accompanied by her younger brother who was an internist in London. Her father was an ophthalmologist in Athena. I had to get induction chemotherapy followed by surgery then PORT. She got married several years after and had a baby boy but developed pleural recurrence opposite side of her thorax. I was requested to do simulation and RT plans in Athena with her Radiation Oncologist there since she did not want to leave her baby. She did well for several years after treatment but developed pulmonary hypertension and passed away. I really wanted to give my message how important for PORT with adequate treatment plan with adequate equipment before patients too many recurrences or late stage.
Some of our patients developed coronary artery diseases after PORT, which were treated by angio-catheter. They were treated by 3 DCRT almost 20 years ago. No recurrences but late effects need to be avoided. More physically and biologically targeted treatments are needed in future.
Mediastinum: Would you please give some suggestions for early career researchers in the filed of radiation oncology?
Prof. Komaki: I was born near Osaka in Japan and raised in Hiroshima. My parents were from Hiroshima where Atomic Bomb (AB) was dropped on August 5, 1945. Immediate deaths were 75,000 and another 75,000 people died within 6 months. People who received total body radiation especially younger age developed Leukemia, Thyroid Cancer, Breast cancer Stomach Cancer, Bladder Cancer, Colon Cancer and Multiple Myeloma later of their age. I met Ms. Sadako Sasaki who was exposed to AB when she was an infant and developed AML at the age of 10 years old. My grand mother had total body radiation from AB but never had malignancies. She died of Alzheimer and Osteoporosis at the age of 72 years old.
We need to avoid any carcinogens to younger patients including chemotherapy and scattering low dose of radiation to their total bodies which requires more targeted RT. Also we need to recognize which patients need PORT as well as how we can give concurrent chemoradiotherapy for unresectable Thymic Tumors.
Expert introduction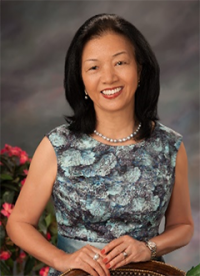 Figure 1 Prof./ Dr. Ritsuko Komaki
Dr. Ritsuko Komaki, MD, FACR, FASTRO, FARS, FAAWR (Figure 1) is Emeritus Professor of Department of Radiation Oncology, The University of Texas M.D. Anderson Cancer Center, Houston, TX, USA and Adjunctive Professor of Radiation Oncology, Baylor College of Medicine, Houston TX, USA.
Dr. Komaki received her MD degree from Hiroshima University School of Medicine, Japan in1969. Following her fellowship in VA Hospital, Hematology/Oncology Milwaukee, WI, USA in 1973, she completed her residency in the Medical College of Wisconsin, Milwaukee, WI, USA IN 1977 and another fellowship in MD Anderson Cancer Center, Houston, TX, USA IN 1979. She has played important role in many professional organizations. She became the principal investigator at M. D. Anderson for the RTOG since 1996. She has been active in the American Society of Radiation Oncology (ASTRO) and she chaired the Education Committee and chairs the International Committee. She serves on the National Council on Radiation Protection and Measurements (NCRP), the National Comprehensive Cancer Network (NCCN) guidelines committee for lung cancer. She was president of the American Radium Society (ARS) in 2008. She served vice president of Radiological Society of North America (RSNA) in 2000. She served the President of American Association for Women Radiologists (AAWR) in 2001 and received AAWR Marie Sklodowska-Curie Award which is the award given to a person who has contributed life-time outstanding work in science and medicine in the USA. Also she has received Fellow of American College of Radiology (FACR) in 1988 and Fellow of American Society of Therapeutic Radiation Oncology (FASTRO) in 2007. She received the Gold Medal from Juan del Regato Foundation which recognizes the outstanding educators for Radiation Oncologists in 2008. She received the Gold Medal from Japanese Society of Therapeutic Radiation Oncology (JASTRO) and Gold Medal form Japanese Lung Cancer Society in 2009. She serves the presidency of M.D. Anderson Radiation Oncology –G.H Fletcher Society in 2012-2013.
Dr. Komaki is one of the most prominent women radiation oncologists and leader in the world who enjoys a well-earned international reputation. She has devoted her career to research to improve the outlook for patients with cancer of the lung, the leading cause of cancer deaths in the United States and in the world. She has devoted her life and her endless effort (including working in her office every weekend) in the prevention, safe treatment, and better outcome of lung cancer patient and she has made many original contributions. Besides of her strength and major accomplishments in clinical research, she has contributed to translational research in lung cancer, especially brain metastasis. She has published over 550 peer-reviewed articles.
The most significant contribution to the field of radiation oncology of Dr. Komaki is her great vision, her tremendous effort in the creation of the Proton Treatment Center in Houston. She has devoted tremendous effort and enthusiasm in seeking better physical targeted therapy using proton beam. She has made critical contribution from the inception of the idea, in every step in the building of the center, to today's clinical application of proton therapy. Nowadays, proton facilities have been mushrooming in US and in the world, thanks to the impact of the Houston proton center and Dr. Komaki's effort in advocating this cutting edge radiation modality and her contribution will never be over signified.
Dr. Komaki's great contribution as a women leader is well documented by her consistent and active participation, leadership, and support to AAWR. She was the first radiation oncologist to serve as President of the AAWR. Her advocacy for the AAWR among young women in our field is unwavering and highly effective.
Acknowledgments
Funding: None.
Footnote
Provenance and Peer Review: This article was commissioned by the editorial office, Mediastinum for the series "Meet the Professor". The article did not undergo external peer review.
Conflicts of Interest: Both authors have completed the ICMJE uniform disclosure form. The series "Meet the Professor" was commissioned by the editorial office without any funding or sponsorship. AL reports that she is a full employee of AME Publishing Company. RK declares no conflicts of interest.
Open Access Statement: This is an Open Access article distributed in accordance with the Creative Commons Attribution-NonCommercial-NoDerivs 4.0 International License (CC BY-NC-ND 4.0), which permits the noncommercial replication and distribution of the article with the strict proviso that no changes or edits are made and the original work is properly cited (including links to both the formal publication through the relevant DOI and the license). See: https://creativecommons.org/licenses/by-nc-nd/4.0/.
References
NCCN Thymoma and Thymic Carcinomav.1.2021-2020. https://www.nccn.org/professionals/physician_gls/pdf/thymoma.pdf
Chun SG, Hu C, Choy H, et al. Impact of Intensity-Modulated Radiation Therapy Technique for Locally Advanced Non-Small-Cell Lung Cancer: A Secondary Analysis of the NRG Oncology RTOG 0617 Randomized Clinical Trial. J Clin Oncol 2017;35:56-62. [PubMed]
Sejpal S, Komaki R, Tsao A, et al. Early findings on toxicity of proton beam therapy with concurrent chemotherapy for nonsmall cell lung cancer. Cancer 2011;117:3004-13. [PubMed]
Liao Z, Lee JJ, Komaki R, et al. Bayesian Adaptive Randomization Trial of Passive Scattering Proton Therapy and Intensity-Modulated Photon Radiotherapy for Locally Advanced Non-Small-Cell Lung Cancer. J Clin Oncol 2018;36:1813-1822.
Gomez D, Komaki R. Technical advances of radiation therapy for thymic malignancies. J Thorac Oncol 2010; 5:S3336-343.
Gomez D, Komaki R, Yu J, et al. Radiation therapy definitions and reporting guidelines for thymic malignancies. J Thorac Oncol 2011;6:S1743-8. [PubMed]
Park HS, Shin DM, Lee JS, et al. Thymoma. A retrospective study of 87 cases. Cancer 1994;73:2491-8. [PubMed]
Modh A, Rimner A, Allen PK, et al. Treatment Modalities and Outcomes in Patients With Advanced Invasive Thymoma or Thymic Carcinoma: A Retrospective Multicenter Study. Am J Clin Oncol 2016;39:120-5. [PubMed]
Parikh RR, Rome R, Hug E, et al. Adjuvant proton beam therapy in the management of Thymoma: a dosimetric comparison and acutetoxicities. Clin Lung Cancer 2016;17:362-366.
Pollack A, el-Naggar AK, Cox JD, et al. Thymoma. The prognostic significance of flow cytometric DNA analysis. Cancer 1992;69:1702-9. [PubMed]
Pollack A, Komaki R, Cox JD, et al. Thymoma: treatment and prognosis. Int J Radiat Oncol Biol Phys 1992;23:1037-43. [PubMed]
DM Shin DM. A multidisciplinary approach to therapy for unresectable malignant Thymoma. Ann Inten Med 1998;129:100-4. [PubMed]
Marom EM, Milito MA, Moran CA, et al. Computed tomography findings predicting invasiveness of thymoma. J Thorac Oncol 2011;6:1274-81. [PubMed]
Gomez DR, Blumenschein GR Jr, Lee JJ, et al. Local consolidative therapy versus maintenance therapy or observation for patients with oligometastatic non-small-cell lung cancer without progression after first-line systemic therapy: a multicentre, randomised, controlled, phase 2 study. Lancet Oncol 2016;17:1672-1682. [PubMed]
Girard N. Targeted therapies for thymic malignancies. Thorac Surg Clin 2011 Feb;21(1):115-23, viii. PMID: 21070993.