Anne Lu1, Alisha Huang1, Paul Van Schil2
1Mediastinum Editorial Office, AME Publishing Company; 2Department of Thoracic and Vascular Surgery, Antwerp University Hospital and University of Antwerp, Antwerp, Belgium

Editor's Note: Tumors of the thymus gland are a group of rare diseases, on which both patients and doctors lack of knowledge and information. International Thymic Malignancy Interest Group (ITMIG) has launched the initiative: May – Thymic Malignancy Awareness Month. ITMIG aims to increase the knowledge of these rare neoplasms among patients and their families, as well as among doctors of various specialties with a series of events including the interviews with mediastinal disease experts released on the journal Mediastinum. Prof. Paul Van Schil, as a prominent expert in the field of thymic diseases, was invited for the interview.
Mediastinum: Surgical resection is the mainstay of treatment of thymoma. Would you please share some significant progresses in surgical management of thymic malignancies in recently years?
Prof. Van Schil: Especially important when operating thymic epithelial tumors (TET) comprising thymomas and thymic carcinomas, is that the surgeon aims for a complete resection without breaching the capsule, if present. Most centers prefer to perform an extended thymectomy, especially when myasthenia gravis is associated. For smaller thymomas without accompanying myasthenia gravis, there is an ongoing discussion whether thymomectomy - removal of thymoma only and not the whole thymic gland - is a valid oncological operation. Due to the fact that isolated islets of thymic tissue may be found from the cervical region to the diaphragm, in general, it is probably safer to perform an extended thymectomy.
Regarding the approach classical incisions are median sternotomy as for cardiac interventions, and anterolateral thoracotomy as for lung resection. Newer, minimally invasive approaches are VATS (video-assisted thoracic surgery), RATS (robotic-assisted thoracic surgery), and subxiphoid incision in combination with VATS. It should be indicated that these are different approaches to the thymus, not an operation on itself. Every center has developed its own preferred technique and due to the rarity of thymic tumors, it is difficult to perform randomized, controlled trials. Our own preference consists of RATS approach for smaller, encapsulated lesions, and sternotomy for larger lesions involving main structures as large mediastinal vessels.
Mediastinum: Would you please share your experience and knowledge about incidence of recurrence after surgery, such as risk factors, strategies to prevent/manage recurrence?
Prof. Van Schil: Recurrence after surgery clearly depends on clinical and pathological stage of disease, the operation performed and final pathology. A TNM classification with subsequent division into stages was introduced when we organized the 5th ITMIG meeting in Antwerp, Belgium in 2014. The higher the stage, the poorer prognosis becomes. Regarding pathology, thymic carcinomas have a worse prognosis compared to the thymoma subtypes. Patients presenting with separate, malignant pleural or pericardial nodules have a high risk of recurrent disease. Preoperative biopsy of encapsulated tumors should be avoided not to rupture the capsule. As mentioned, complete resection is the final goal of surgical treatment. Patients with incomplete resections are mainly treated with postoperative radiotherapy (PORT). For unresectable tumours combined modality treatment is indicated. Every patient should be discussed within a multidisciplinary team to determine the optimal, personalised therapeutic regimen.
Mediastinum: Thymic Epithelial Tumors usually need to be managed by a multidisciplinary team including thoracic surgeon, pathologist, radiation oncologist, oncologist. However, not all doctors are familiar with thymic malignancies. So, where and how could a doctor seek for help and cooperation from multidisciplinary experts in the field?
Prof. Van Schil: Due to the rarity of TETs centralization in experienced centers is required which has already has been realized in France. Recently, the European Union has created European Reference Networks (ERNs). Thymic tumors belong to section 8 of the EURACAN network of which Prof. Nicolas Girard is chair and currently, he is also president of ITMIG. Specific centers treating TETs are listed on the EURACAN website (https://euracan.eu). Difficult clinical cases are discussed in a protected clinical platform by dedicated thoracic oncologists.
Mediastinum: What are the main controversial issues or future challenges in the field of thymic malignancies?
Prof. Van Schil: Several issues and challenges remain:
Optimal approach to TETs (role of minimally invasive surgery)
Indications for postoperative radiotherapy (PORT)
Role of induction therapy for larger or initially inoperable thymic tumors
Contribution of immunotherapy in general treatment of TETs
Important molecular genetic markers that are prognostic and predictive
Centralization of care in experienced centers
Mediastinum: With the improvement of minimally invasive surgeries and other therapies, will the surgical complete resection be less worthwhile?
Prof. Van Schil: Certainly not! As indicated, complete resection is a major prognostic factor and should remain the principal aim of surgical resection. Minimally invasive surgery is certainly expanding but remains a specific approach to the thymic gland, not an intervention on itself.
Mediastinum: Researches on thymic malignancies are usually presented by institutions individually and usually scattered over a long time period. Would you please provide some suggestions to promote global efforts and cooperation? Or any comments on ITMIG's efforts (e.g., developing international database)?
Prof. Van Schil: As mentioned, in the European Union the EURACAN network is a general initiative to join forces between dedicated centers and is in full expansion. Regarding surgical procedures, the European Society of Thoracic Surgeons (ESTS) database provides important information on the number of procedures that were performed over the last years including disease-free and overall survival data. For participating centers a benchmark is provided to put your own data into international perspective. The renewed ITMIG prospective database will certainly become a major source of scientifically valid data which will shape the future diagnostic and therapeutic algorithms for TETs. The ITMIG annual meetings and webinars will gather scientific experts from all over the world discussing new and relevant topics on TETs.
Mediastinum: Would you please give some comments or suggestions for students or junior surgeons dedicated to the field of thymic malignancies?
Prof. Van Schil: Try to be involved in thymic pathology at an early stage of your career. Participate in data collection and interpretation, and become junior member of different societies dealing with thoracic oncology (e.g. IASLC) and TETs (e.g. ITMIG). At a later stage, apply for fellowships to visit centers dedicated to thymic malignancies. Submit your scientific work to annual meetings and hopefully, your abstract will be accepted.
Your passion will make the difference!
Expert introduction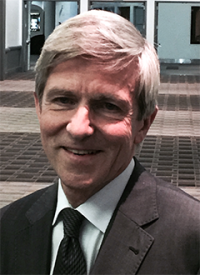 Figure 1 Prof. Paul Van Schil
Paul Van Schil (Figure 1) was born on July 7, 1957 in Antwerp, Belgium. He graduated from medical school with great honor in 1982 at the Antwerp University in Belgium. After completing his training in general surgery, he became a fellow in the Department of Cardiothoracic Surgery at the Antonius Hospital, Nieuwegein, the Netherlands. His doctoral thesis was entitled "Bronchial sleeve resection for lung cancer: long-term results" (University of Nijmegen, the Netherlands, 1992).
In 1990 he became a staff member at the Department of Surgery of the Antwerp University Hospital. Currently, he is professor in thoracic and vascular surgery at the Faculty of Medicine, member of the Antwerp Surgical Training and Research Center (ASTARC) and consultant at the Department of Thoracic and Vascular Surgery of the Antwerp University Hospital.
From October 2013 till October 2014 he was president of the European Association for Cardio-thoracic Surgery (EACTS). In 2017 he became member of Board of Directors of the International Association for the Study of Lung Cancer (IASLC) and chair of the lung cancer domain of its Staging and Prognostic Factors Committee (SPFC). In September 2021 he became president-elect of IASLC. Currently, he is an associate editor of the European Respiratory Journal, Journal of Thoracic Oncology and Acta Chirurgica Belgica. His main interests are thoracic and vascular surgery with a special emphasis on lung cancer staging and therapy, lung metastases, thymoma and mesothelioma.
Acknowledgments
Funding: None.
Footnote
Provenance and Peer Review: This article was commissioned by the editorial office, Mediastinum for the series "Meet the Professor". The article did not undergo external peer review.
Conflicts of Interest: All authors have completed the ICMJE uniform disclosure form. The series "Meet the Professor" was commissioned by the editorial office without any funding or sponsorship. AL reports that she is a full employee of AME Publishing Company. AH reports that she was an intern editor of AME Publishing Company from February 17, 2022 to April 17, 2022. PVS reports institutional fees from AstraZeneca, Roche, MSD, and BMS, outside the submitted work and he is also unpaid treasurer of BACTS and president-elect of IASLC.
Open Access Statement: This is an Open Access article distributed in accordance with the Creative Commons Attribution-NonCommercial-NoDerivs 4.0 International License (CC BY-NC-ND 4.0), which permits the noncommercial replication and distribution of the article with the strict proviso that no changes or edits are made and the original work is properly cited (including links to both the formal publication through the relevant DOI and the license). See: https://creativecommons.org/licenses/by-nc-nd/4.0/.