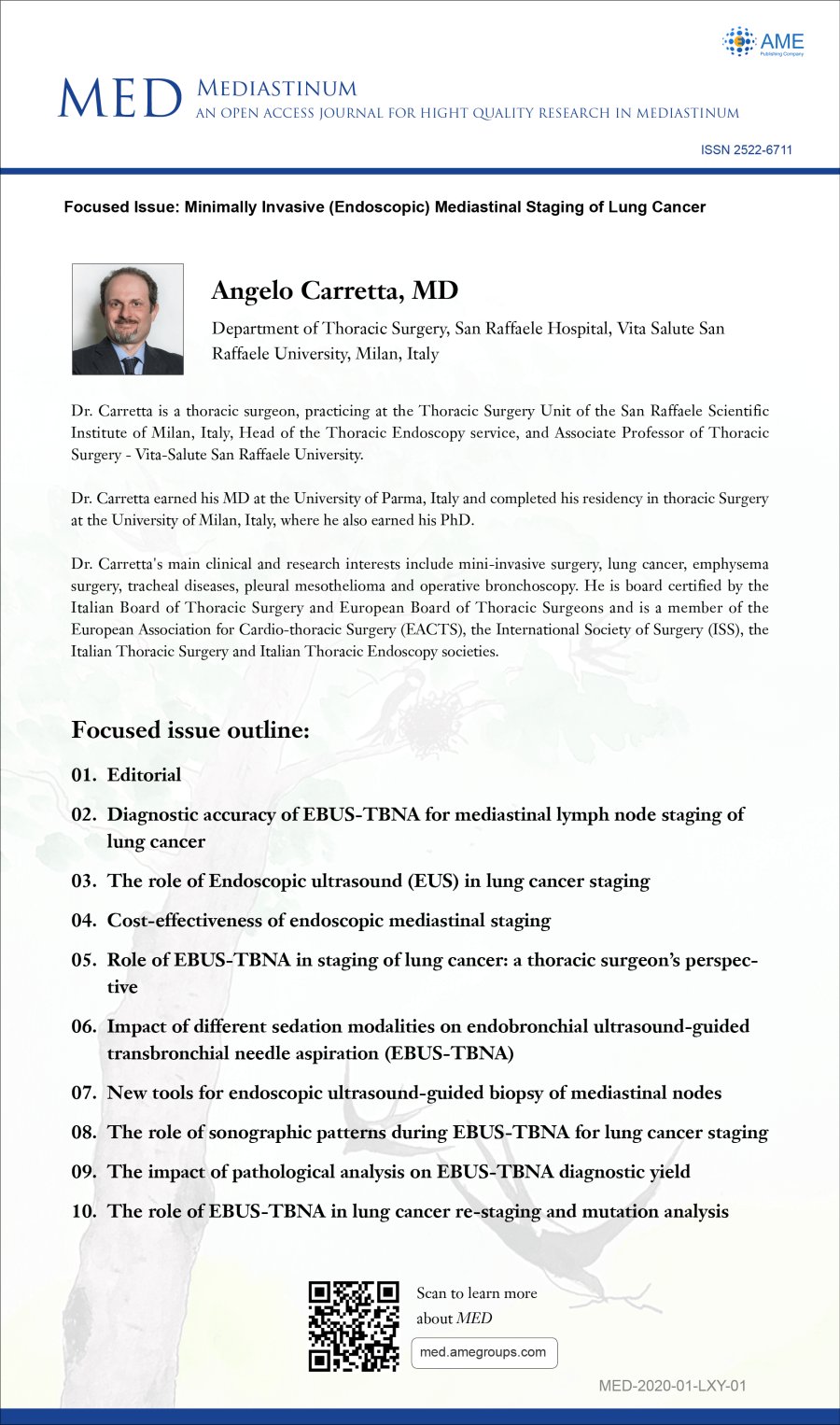 This Focused Issue "Minimally Invasive (Endoscopic) Mediastinal Staging of Lung Cancer" is edited by Dr. Angelo Carretta from Department of Thoracic Surgery, San Raffaele Hospital, Vita Salute San Raffaele University, Milan, Italy.
Dr. Carretta is a thoracic surgeon, practicing at the Thoracic Surgery Unit of the San Raffaele Scientific Institute of Milan, Italy, Head of the Thoracic Endoscopy service, and Associate Professor of Thoracic Surgery - Vita-Salute San Raffaele University.
Dr. Carretta earned his MD at the University of Parma, Italy and completed his residency in thoracic Surgery at the University of Milan, Italy, where he also earned his PhD.
Dr. Carretta's main clinical and research interests include mini-invasive surgery, lung cancer, emphysema surgery, tracheal diseases, pleural mesothelioma and operative bronchoscopy. He is board certified by the Italian Board of Thoracic Surgery and European Board of Thoracic Surgeons and is a member of the European Association for Cardio-thoracic Surgery (EACTS), the International Society of Surgery (ISS), the Italian Thoracic Surgery and Italian Thoracic Endoscopy societies.
Focused issue outline:
Editorial
Diagnostic accuracy of EBUS-TBNA for mediastinal lymph node staging of lung cancer
The role of Endoscopic ultrasound (EUS) in lung cancer staging
Cost-effectiveness of endoscopic mediastinal staging
Role of EBUS-TBNA in staging of lung cancer: a thoracic surgeon's perspective
Impact of different sedation modalities on endobronchial ultrasound-guided transbron-chial needle aspiration (EBUS-TBNA)
New tools for endoscopic ultrasound-guided biopsy of mediastinal nodes
The role of sonographic patterns during EBUS-TBNA for lung cancer staging
The impact of pathological analysis on EBUS-TBNA diagnostic yield
The role of EBUS-TBNA in lung cancer re-staging and mutation analysis

Disclosure:
The series "Minimally Invasive (Endoscopic) Mediastinal Staging of Lung Cancer" was commissioned by the editorial office, Mediastinum without any sponsorship or funding. Angelo Carretta is serving as the unpaid Guest Editors for the series.