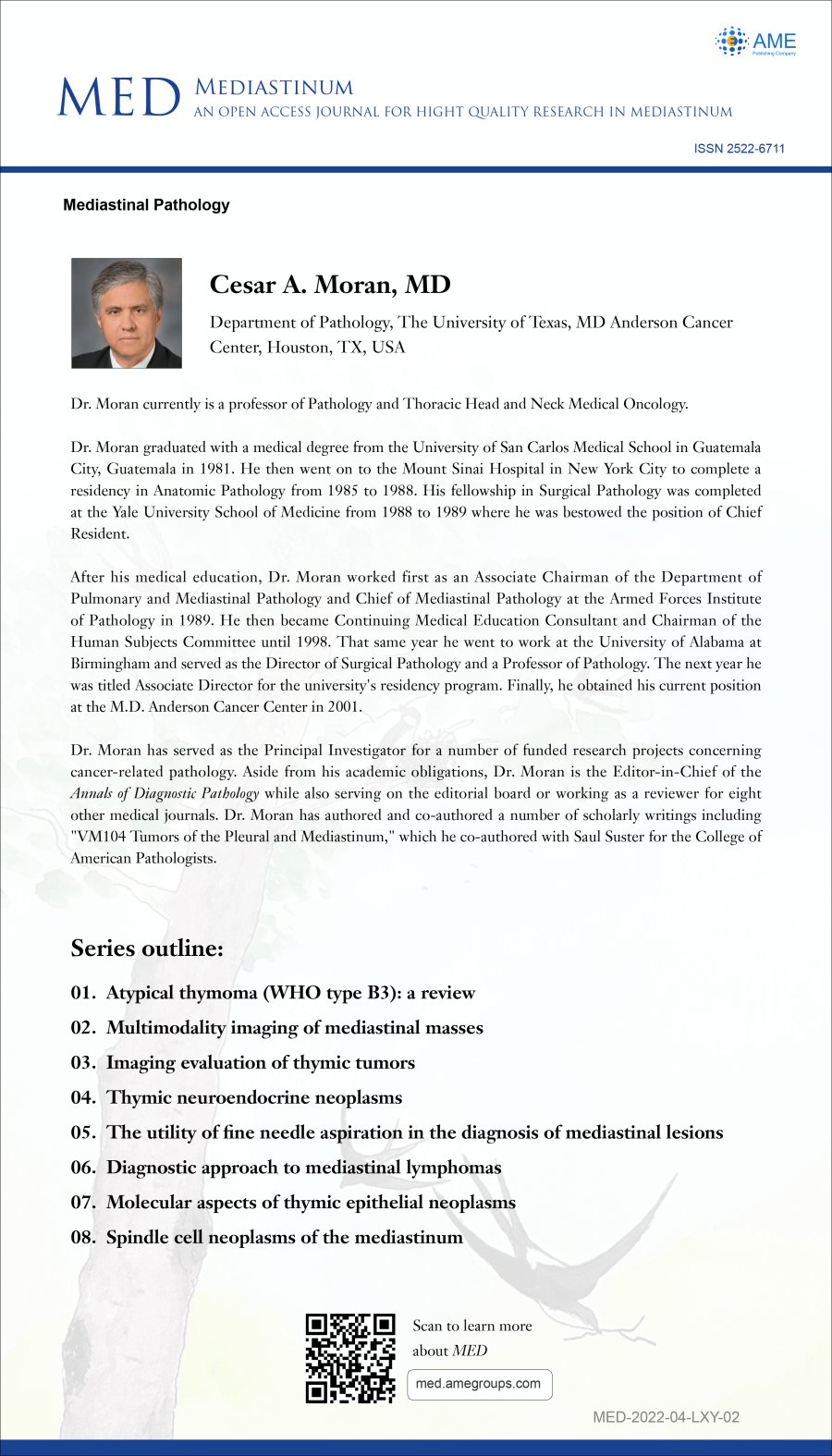 This special series on "Mediastinal Pathology" is edited by Dr. Cesar A. Moran. This series aims to provide insight and overviews on the pathology of various types of mediastinal tumors and different techniques used.
Dr. Moran currently is a professor of Pathology and Thoracic Head and Neck Medical Oncology.
Dr. Moran graduated with a medical degree from the University of San Carlos Medical School in Guatemala City, Guatemala in 1981. He then went on to the Mount Sinai Hospital in New York City to complete a residency in Anatomic Pathology from 1985 to 1988. His fellowship in Surgical Pathology was completed at the Yale University School of Medicine from 1988 to 1989 where he was bestowed the position of Chief Resident.
After his medical education, Dr. Moran worked first as an Associate Chairman of the Department of Pulmonary and Mediastinal Pathology and Chief of Mediastinal Pathology at the Armed Forces Institute of Pathology in 1989. He then became Continuing Medical Education Consultant and Chairman of the Human Subjects Committee until 1998. That same year he went to work at the University of Alabama at Birmingham and served as the Director of Surgical Pathology and a Professor of Pathology. The next year he was titled Associate Director for the university's residency program. Finally, he obtained his current position at the M.D. Anderson Cancer Center in 2001.
Dr. Moran has served as the Principal Investigator for a number of funded research projects concerning cancer-related pathology. Aside from his academic obligations, Dr. Moran is the Editor-In-Chief of the Annals of Diagnostic Pathology while also serving on the editorial board or working as a reviewer for eight other medical journals. Dr. Moran has authored and co-authored a number of scholarly writings including "VM104 Tumors of the Pleural and Mediastinum," which he co-authored with Saul Suster for the College of American Pathologists.
Series outline:
Atypical thymoma (WHO type B3): a review
Multimodality imaging of mediastinal masses
Imaging evaluation of thymic tumors
Thymic neuroendocrine neoplasms
The utility of fine needle aspiration in the diagnosis of mediastinal lesions
Diagnostic approach to mediastinal lymphomas
Molecular aspects of thymic epithelial neoplasms
Spindle cell neoplasms of the mediastinum
Disclosure:
The series "Mediastinal Pathology" was commissioned by the editorial office, Mediastinum without any sponsorship or funding. Dr. Moran is serving as the unpaid Guest Editor for the series and he serves as an unpaid editorial board member of Mediastinum from March 2021 to February 2023.