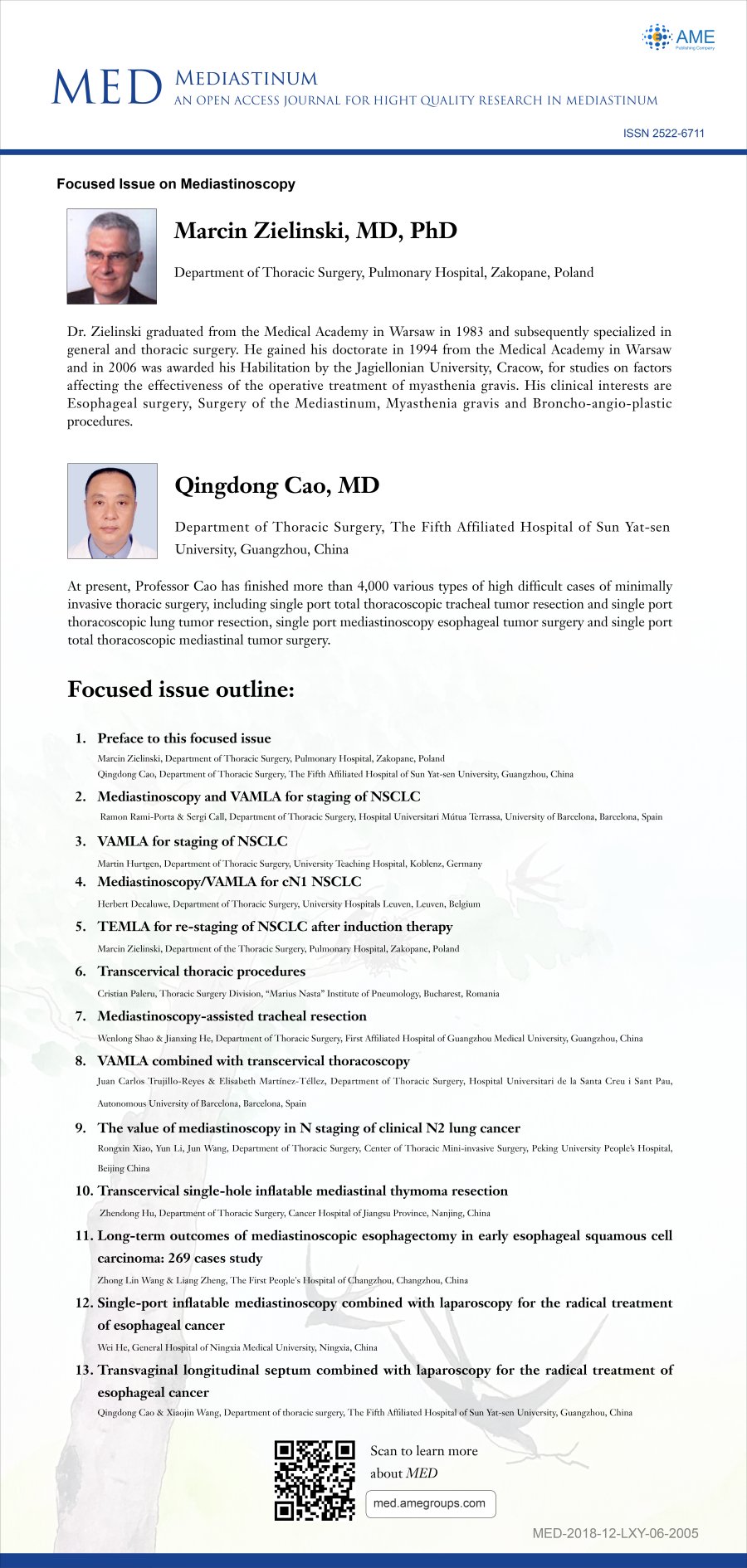 This focused issue on "Mediastinoscopy" is edited by Dr. Marcin Zielinski, from Department of Thoracic Surgery, Pulmonary Hospital, Zakopane, Poland; and Dr. Qingdong Cao, Department of Thoracic Surgery, The Fifth Affiliated Hospital of Sun Yat-sen University, Guangzhou, China.
Dr. Marcin Zielinski graduated from the Medical Academy in Warsaw in 1983 and subsequently specialized in general and thoracic surgery. He gained his doctorate in 1994 from the Medical Academy in Warsaw and in 2006 was awarded his Habilitation by the Jagiellonian University, Cracow, for studies on factors affecting the effectiveness of the operative treatment of myasthenia gravis. His clinical interests are Esophageal surgery, Surgery of the Mediastinum, Myasthenia gravis and Broncho-angio-plastic procedures.
Dr. Qingdong Cao presently has finished more than 4,000 various types of high difficult cases of minimally invasive thoracic surgery, including single port total thoracoscopic tracheal tumor resection and single port thoracoscopic lung tumor resection, single port mediastinoscopy esophageal tumor surgery and single port total thoracoscopic mediastinal tumor surgery.
Focused issue outline:
Preface to this focused issue
Marcin Zielinski, Department of Thoracic Surgery, Pulmonary Hospital, Zakopane, Poland
Qingdong Cao, Department of Thoracic Surgery, The Fifth Affiliated Hospital of Sun Yat-sen University, Guangzhou, China
Mediastinoscopy and VAMLA for staging of NSCLC
Ramon Rami-Porta & Sergi Call, Department of Thoracic Surgery, Hospital Universitari Mútua Terrassa, University of Barcelona, Barcelona, Spain
VAMLA for staging of NSCLC
Martin Hurtgen, Department of Thoracic Surgery, University Teaching Hospital, Koblenz, Germany
Mediastinoscopy/VAMLA for cN1 NSCLC
Herbert Decaluwe, Department of Thoracic Surgery, University Hospitals Leuven, Leuven, Belgium
TEMLA for re-staging of NSCLC after induction therapy
Marcin Zielinski, Department of the Thoracic Surgery, Pulmonary Hospital, Zakopane, Poland
Transcervical thoracic procedures
Cristian Paleru, Thoracic Surgery Division, "Marius Nasta" Institute of Pneumology, Bucharest, Romania
Mediastinoscopy-assisted tracheal resection
Wenlong Shao & Jianxing He, Department of Thoracic Surgery, First Affiliated Hospital of Guangzhou Medical University, Guangzhou, China
VAMLA combined with transcervical thoracoscopy
Juan Carlos Trujillo-Reyes & Elisabeth Martínez-Téllez, Department of Thoracic Surgery, Hospital Universitari de la Santa Creu i Sant Pau, Autonomous University of Barcelona, Barcelona, Spain
The value of mediastinoscopy in N staging of clinical N2 lung cancer
Rongxin Xiao, Yun Li, Jun Wang, Department of Thoracic Surgery, Center of Thoracic Mini-invasive Surgery, Peking University People's Hospital, Beijing China
Transcervical single-hole inflatable mediastinal thymoma resection
Zhendong Hu, Department of Thoracic Surgery, Cancer Hospital of Jiangsu Province, Nanjing, China
Long-term outcomes of mediastinoscopic esophagectomy in early esophageal squamous cell carcinoma: 269 cases study
Zhong Lin Wang & Liang Zheng, The First People's Hospital of Changzhou, Changzhou, China
Single-port inflatable mediastinoscopy combined with laparoscopy for the radical treatment of esophageal cancer
Wei He, General Hospital of Ningxia Medical University, Ningxia, China
Transvaginal longitudinal septum combined with laparoscopy for the radical treatment of esophageal cancer
Qingdong Cao & Xiaojin Wang, Department of thoracic surgery, The Fifth Affiliated Hospital of Sun Yat-sen University, Guangzhou, China